Greetings from the chairman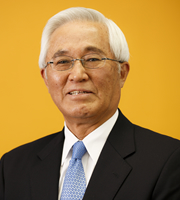 Nippon Pharmacy Association is about to celebrate 10th anniversary as an organization of top executives of health insurance pharmacies. I am sincerely grateful to related people who kindly provided us guidance and directors and members who exerted their efforts to establish our position as an industry organization.
I feel that this organization should not only be the one to seek for profit as a company but an organization of top executives to increase social value in order to establish our social position.
Furthermore, I would like this organization to solidify our collaboration more with various relevant organizations with "Medical Collaboration" as a keyword.
Our health insurance pharmacies cannot operate without patients who bring prescriptions to us, medical providers who issue such prescriptions, drug manufacturers that manufacture drugs and to hand these to patients, and drug wholesalers that distribute these drugs. Moreover, collaboration is done between government agencies and local communities that supervise medical system to provide national health insurance that we can be proud of in the world. Therefore our medical system is based on various medical collaborations.
These are the collaboration between physicians and nurses to provide medical care, the collaboration between drug manufacturers and wholesalers to distribute drugs, and the collaboration between the government and local communities to provide local medical care. I am quite sure that health insurance pharmacies that can be truly trusted and satisfied by the Japanese people can be realized through these collaborations.
There are various challenges to be solved such as the direction of separation of dispensing and prescribing and distribution of medical products. We would like to solve these challenges one by one as a responsible organization of top executives. I sincerely would like to welcome advice from relevant people, and understanding and cooperation from our members.
Mr. Masaru Nakamura
Chairman, Nippon Pharmacy Association
President, QOL Co., Ltd.